Getting There
OK. Let's just say it again. The simple thing to do is take the subway to Harvard Square.
When you come out of the station at Out-of-Town-News, look catty-corner across the street to the window that says Dewey, Cheatham, & Howe. Yes, those are the world-famous Car Talk guys, familiar to everyone who listens to NPR. Now look at the windows directly above them, the ones that don't have any clever names in gold letters. That's us. 5 JFK Street, Suite 404. For more picturesque detail, see below.
Driving
Did we mention that it is extremely easy to get here by public transportation?
OK, you're driving. Or you have a driver. Follow these steps.
Step 1: Recognize that traffic in Harvard Square reminds the well-traveled of traffic in Sao Paolo and Jakarta. It will take you longer to drive than to take public transportation.
Step 2: Check out Mapquest for directions.
Step 3: Once you get near here, don't believe the directions anyway. They usually don't correctly account for the one-way streets. Your best bet is to come into Harvard Square from Massachusetts Avenue (north or south), then when you get to the Out-of-Town newsstand, get out and tell your driver to make his way to the building at 5 JFK Street about ten minutes before you are ready to leave. They can usually park illegally for about that long.
Step 4: Oh, you are driving yourself. If you are going north on Massachusetts Avenue, keep on going through the first traffic light and bear left. At the next light, turn left (you have no choice) and go straight. Now, you are on Massachusetts Avenue, going south. Once again, you will pass the Out of Town News, and once again, you can tell your driver to stop, so that you can get out and go up to our building.
Oh, that's right, you are driving yourself. Find a parking space. There are meters, which are are won and lost in arm-wrestling contests. Parking lot prices are roughly one yacht per hour. The closest parking lot and the cheapest is at 24 Eliot Street, which you can get to if you haven't decided to abandon your car by continuing past the Out of Town News and going straight when most of the traffic is bearing left. You won't know it, because there are no street signs, but you are now on Eliot Street. Go to the light. Turn left. You are STILL on Eliot Street, and the parking garage is on your left.
The less complicated way of doing this is to go down JFK Street toward the river, go two blocks, and turn right. The garage is immediately on your right. People do this fairly often, presumably for the sake of simplicity, but we argue that it is a mistake. You see, JFK Street is one-way the wrong way here, and trying to thread your way through the oncoming traffic and the parked trucks can raise your blood pressure to unacceptable levels.
You really are better off taking the subway.
Taking the Subway
It's only $1.25. Take the red line T to Harvard Square. When you get here, exit through the main gates.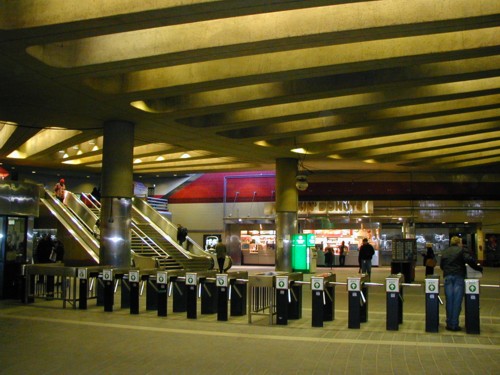 Welcome to Harvard Square. On your right is the world famous Out of Town News, where you can pick up the latest copy of CIO Magazine or Optimize. On your left is the brand new office of Citizens Bank. This brand new building replaced a really great building that housed, among other landmarks, The Tasty, which was the cafe that Matt Damon and Minnie Driver ate at in Good Will Hunting (not the Bow & Arrow Pub where they met. That's down the street.)
When you get to JFK street (straight ahead after exiting the T), look at the building across the street and to your left.
The third floor corner offices of Dewey, Cheetham & Howe are home to our neighbors, Car Talk. For those of you who aren't familiar with Car Talk, it is an NPR program that employs hilarity and wit in discussions of everything from seat belts & SUVs to spark plugs & engine coolant. The first floor corner store is the Curious George bookstore. Pretty much everyone knows Curious George and his whimsical tomfoolery. If you aren't familiar with his nutty shenanigans, then be sure to run in and read up. The very first, eponymous book is recommended.
Walk across the street (be sure to wait for a walk sign!), and head to our building. It's 5 JFK Street. The entrance is to the left of Curious George, next to Vision House. When you get to the doorway, you will see just how dangerous working in this building can be - three rare book stores!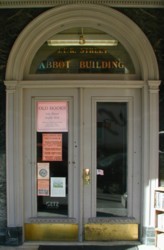 B2B Analysts, Inc. is on the fourth floor, suite 404.
When you come in, you may see Laika the B2B Analysts mascot.
You will most certainly see our President working hard.
If you are good, you will be allowed into his office, from where you can look out the window at the best view in Harvard Square.